Cloud
Services
Cloud masters
Platforms
Cloud migration strategy
We plan and implement a cloud strategy for your organization.
We create a long-term plan, taking into account your business, technology and operation.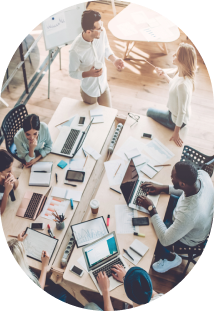 Scope of support
Budget
Benefits
Free consultation
scope of support
WE ADVISE YOU ON YOUR CLOUD STRATEGY
We know that proper planning of the cloud strategy is the most important element of digital transformation.
RELY ON OUR EXPERTS' EXPERIENCE
We have unique experience in cloud strategy design, gained in cooperation with global partners such as AWS, Azure and GCP and while creating our own Oktawave cloud.
Our Cloud Masters team gathers the best architects, developers and administrators who are at your service at every stage of cloud infrastructure design.
ACCOMPLISH YOUR CLOUD
TRANSFORMATION GOAL
While drafting the plan, we pay attention to:
Business – finance, business values, strategy of services, change management, data management, legal aspects.
Business – finance, business values, strategy of services, change management, data management, legal aspects.
Which cloud to choose?
WE HELP YOU
CHOOSE THE OPTIMAL
CLOUD MODEL
Request a free consultation
public cloud

private cloud

hybrid cloud

multicloud
stages
Building a digital transformation strategy
ANALYSIS OF THE EXISTING STATE
We carefully analyze your environment in the AS IS model.

FINANCIAL RECOMMENDATIONS
We give tips on how to maximize the financial gains and avoid commercial risks.

DEFINING THE TARGET STATE
We define the perfect IT environment supporting the goals of your organization.

RISK IDENTIFICATION
We consider the risks concerning system security and compliance with legal regulations.

MAPPING OF BARRIERS AND CHALLENGES
We identify the existing gaps and areas which require attention and changes.

OPERATION CONTINUATION PLAN
We design the architecture and draft a business continuity management policy.

TECHNOLOGICAL RECOMMENDATIONS
We advise you on the selection of the technology provider, implementation model and migration model.

PROJECT SCHEDULE
We set the actions and priorities together so that the cloud supports your business strategy.
budget
DRAFTING A PROJECT BUDGET
Cloud technology changes the approach to the purchase of IT resources, the settlement of their use and budget planning. We translate technological knowledge into financial aspects. We help you:
Calculate the TCO and ROI for the planned project
Compare the financial effectiveness of various project scenarios
Transform the budget model from CAPEX to OPEX
Define the expenditure at every stage of the project
benefits
What you gain with Oktawave
Strategy
A cloud technology adoption plan adjusted to the business challenges of your organization.
Experts
Support in making decisions concerning providers, the technological stack and commercial conditions.
Implementation
Our cloud engineer teams design, build and maintain your environment within one organization.
Responsibility
We carry out the entire cloud migration project and you get one point of contact.
You can count on
Our Support
We advise you on how to run
a cloud transformation
in your organization
nd we carry it all out.

Request a free consultation
on your cloud strategy.